PRICING ON ALL TRU-COLOR PAINT:
TCP-1000 to TCP-1499
1 OZ. $ 5.69
2 OZ. $ 10.25
Shipping options that you'll need:
1-10 1 ounce Bottles to anywhere in U.S. via priority mail is $ 9.50 flat rate.
11 -24 1 ounce or for 8 to 16 2 oz. bottles, $ 14.50 to anywhere in continental U.S.
OUTSIDE of U.S. – Varies on country and quantity ordered, please email.
PAINT CHIPS
GENERIC, SOLVENTS, DIORAMA COLORS
---
Military Ships TCP-1000 to TCP-1199 Series


In 2017 Tru-Color Paint started to release a large variety of paints for military ships. These paints cover the period from the 1930's to the modern era and include nearly every color used by the U.S. Navy from 1939 through 1946 in both the Atlantic and Pacific Theaters of Operation. Imperial Japanese Naval (IJN) colors (10 most common colors) will be released over 3 months starting in February, 2018. The Kreigsmarine (German) Navy will be added in 2019. All of the naval colors, regardless of country on whose ships the colors were used, fall into the TCP-1000 to TCP-1199 series of paints.
Many camouflage colors were developed throughout these years (and even during WWI) by the U.S., British, Japanese and German Navies to help "hide" the ships from submarines and air planes. Many "dazzle" patterns were developed by these navies in an attempt to "fool" enemy ships. These schemes changed over time. In the Pacific Theater both the U.S. Navy and Marine Corps were more concerned with landing craft, PT boat and other small craft camouflage used in landings and support roles.
Nearly all of the paints developed in this section of the military product line were matched to color chips supplied by Snyder and Short. We are grateful to Randy Short for supplying the mounted color chips as well as additional chips and information not part of the charts. For modern ship colors Federal Standard 595B or 595C color chips (as appropriate) were used in matching the paint. Several colors were developed with help from experts in their field.
All of the paints in the TCP-1000 to TCP-1199 series are designed to be air brushed directly from the bottle with little or no thinning at 28-35 PSI. If thinning is wanted, we recommend that the modeler use TCP-015, Thinner, or TCP-310, Retarder, as they will not affect the intended finish or drying time of the paint. The finish will be what the color chip it was matched to calls for.
By February 2018 nearly all of the Atlantic Theater U.S. Naval colors will be released (TCP-1000 to TCP-1022) as well as all of the modern colors, TCP-1042 to TCP-1045). The many Greens and Browns used in the Pacific Theater will start shipping in March 2018. The ten (10) primary colors used by the Imperial Japanese Navy (IJN) will start shipping in February, 2018. Note that the Japanese Navy did not camouflage many of their ships.
No dates have been set for the start of the Royal Navy colors used in WWII, although some of the colors have already been matched in our modern laboratory to color charts supplied by Snyder and Short.
All of the Tru-Color Paint colors manufactured in the above series are available in 1 oz. and 2 oz. size bottles from your favorite hobby shop, online store and from us directly. A complete listing plus an order form is part of this section for your use. If you have any questions regarding these products, or anything else about Tru-Color Paint, please do not hesitate to ask or consult the FAQ section on this website. As with all Tru-Color Paint products the entire military series is manufactured and stocked in Phoenix, AZ.
We look forward to serving the paint needs of the military modeler.
NAVAL SHIPS
UNITED STATES NAVY
TCP-1000 Norfolk 65-A, Antifouling Red
TCP-1001 Dull Black, #82
TCP-1002 Navy Gray, #5- 1939
TCP-1003 5-H Haze Gray
TCP-1004 White 5-U
TCP-1005 Light Gray 5-L, Early 1941
TCP-1006 5-O Ocean Gray, Late 1941
TCP-1007 Navy Blue, 5-N
TCP-1008 5-S Sea Blue, Version C
TCP-1009 Mahogany
TCP-1010 Deck Blue 20-B, 1942-1945
TCP-1011 Cavite Blue
TCP-1012 5-P Pale Gray, 1943
TCP-1013 5-L Light Gray, 1943
TCP-1014 Polished Bronze
TCP-1015 Boot Black
TCP-1016 5-B Thayer Blue, 1941
TCP-1017 Deck Blue 20-B, 1941
TCP-1018 5-O Ocean Gray, 1941
TCP-1019 Flight Deck Stain 21
TCP-1020 #20 Standard Deck Gray- 1939
TCP-1021 5-D Dark Gray
TCP-1022 Norfolk 250N, Flight Deck Stain- 1941
TCP-1023 Navy Brown 1-A, 1942
TCP-1024 Mountbatten Pink
TCP-1025 Navy Brown 2-A, 1942
TCP-1026 Navy Brown 3-A, 1942
TCP-1027 Navy Brown 4-A, 1942
TCP-1028 Navy Green 1-A, 1942
TCP-1029 Navy Green 2-A, 1942
TCP-1030 Navy Green 3-A, 1942
TCP-1031 Navy Green 4-A, 1942
TCP-1032 Green #1, 1944
TCP-1033 Green #2, 1944
TCP-1034 Green #3, 1944
TCP-1035 #4 Brown, 1944
TCP-1036 5-HG Haze Green, 1943
TCP-1037 5-NG Navy Green, 1943
TCP-1038 5-OG Ocean Green, Early 1943
TCP-1039 5-LG Light Green, 1943 Revision
TCP-1040 5-NG Navy Green, 1943 Revision
TCP-1041 20-G Deck Green
TCP-1042 FS-36270, Modern Haze Gray
TCP-1043 FS-36173, Ocean Gray- NAVSEA
TCP-1044 Flight Deck Gray
TCP-1045 FS-26008, Deck Gray
TCP-1047 FS-11105, Coast Guard Antifouling Red, 2015+ (April, 2020)
TCP-1048 FS-11350, USN Modern Antifouling Red, 2011+ (April, 2020)
TCP-1089 5-OG Ocean Green, Revision 1943
TCP-1090 5-PG Pale Green, Revision 1943
TCP-1091 5-HG Haze Green, Revision 1943
TCP-1092 #37 Light Gray 5-L, 1944-1945
TCP-1093 #27 Haze Gray 5-H, 1944-1945
TCP-1094 #17 Ocean Gray, 1944-1945
TCP-1095 #11 Outside Gray, 1944-1945
TCP-1096 #46 Outside Gray, 1944-1945
TCP-1097 5-S Sea Blue, Version A
TCP-1098 #7, Navy Gray, 5-N
ROYAL NAVY (GREAT BRITAIN)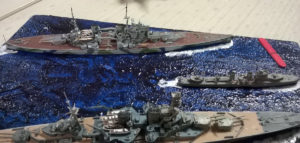 TCP-1052 Pink
TCP-1053 Western Approaches Blue- 1941
TCP-1054 Western Approaches Green- 194
TCP-1055 Semtex Cream- 1939-1941
TCP-1056 Corticene- 1939-1941
TCP-1057 G5- 1942+
TCP-1058 G10- 1942+
TCP-1059 G20- 1942+
TCP-1060 G45- 1942+
TCP-1061 B15- 1942+
TCP-1062 B20- 1942+
TCP-1063 B30- 1942+
TCP-1064 B55- 1942+
TCP-1065 Semtex Green- 1939-1941
TCP-1066 RN 507A- Dark Grey, 1920-1941 (January, 2021)
TCP-1067 RN 507B- Medium Grey, 1920-1941 (January, 2021)
TCP-1068 RN 507C- Light Grey, 1920-1941 (January, 2021)
TCP-1070 B-5- Pale Grey, 1941 (January, 2021)
JAPANESE NAVY

TCP-1106 Sasebo Arsenal Gray A
TCP-1107 Kure Arsenal Gray A
TCP-1108 Maizuru Arsenal Gray A
TCP-1109 Yokosuka Arsenal Gray A
TCP-1110 Type 1 Camouflage Green
TCP-1111 Type 2 Camouflage Green
TCP-1112 Deck Tan
TCP-1113 Type 21 Camouflage Green
TCP-1114 Type 22 Camouflage Green A
TCP-1115 Linoleum
GERMAN NAVY (KREIGSMARINE)

TCP-1117 RAL 7037 Dunkelgraǔ
TCP-1118 RAL 7038 Hellgraǔ
TCP-1119 Mittelgraǔ (Medium Gray)
TCP-1120 RAL 8013 Schiffsböden Farbe Rot #5
TCP-1121 Silbergraǔ (Silver-Gray)
TCP-1122 Hellgraŭ #51
---