PRICING ON ALL TRU-COLOR PAINT:
TCP-1000 to TCP-1499
1 OZ. $ 5.69
2 OZ. $ 10.25
Shipping options that you'll need:
1-10 1 ounce Bottles to anywhere in U.S. via priority mail is $ 9.50 flat rate.
11 -24 1 ounce or 8 to 16 2 oz. bottles, $ 14.50 to anywhere in continental U.S.
OUTSIDE of U.S. – Varies on country and quantity ordered, please email.
PAINT CHIPS
GENERIC, SOLVENTS, DIORAMA COLORS
AIRCRAFT PAINT SETS: $ 32.95 EACH SET; 6 1-ounce bottle each set
10601: Southeast Asia Camouflage Schemes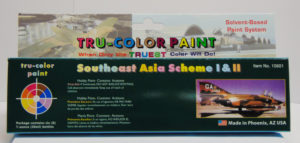 10602: Modern Aircraft Dispersions for F-22 and F-35 Fighters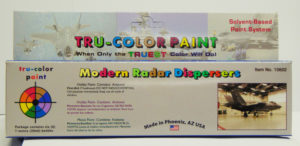 10604: ANA (Army-Navy Aeronautical Standard) WWII Set # 1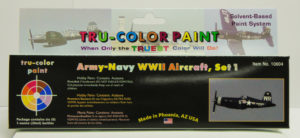 10901 FLESH TONES – BRUSHABLE COLORS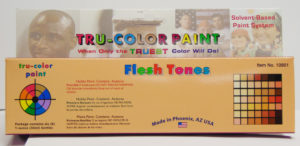 Aircraft TCP-1200 to TCP-1399 Series
U.S. ARMY AIR CORPS, U.S. AIR FORCE, U.S. NAVY. U.S. MARINES, ROYAL AIR FORCE, ISRAELI AIR FORCE & OTHERS
In 2017 Tru-Color Paint started to release a large variety of paints for aircraft. These paints cover the period from 1914 to the modern era and include colors for the world's airplanes from WWI to the modern era. Paints have been or will be released for U.S. Army Air Corps (WWII and the inter-war years 1921-1940), RAF biplanes for WWI, RAF planes for WWII, U.S. Navy and Marine Corps for WWII, modern U.S. Air Force (anything after 1960), the Israeli Air Force and other air forces as data and time permit.
Regarding the modern U.S. Air Force paints we are the ONLY model paint company that offers the F-22 and F-35 Radar Dispersion/Absorption paints in single component ready-to-spray bottles for the modeler plus the "Have Glass" scheme for the F-16. These unique paints "sparkle" when viewed under sunlight or bright light – like the real paint on the prototypes.
The aircraft section of our military product line falls in the TCP-1200 to TCP-1399 series. All of these paints are designed to be air brushed directly from the bottle with little or no thinning at 28-35 PSI. If thinning is desired, we recommend using TCP-015, Thinner and/or TCP-310 Retarder, as it will not affect the drying time or intended finish of the paint being sprayed.

Every color in this series is matched by experts in their respective fields (particularly those for WWI biplanes and for years up to 1939), information on ANA (Army-Navy Aeronautical Standards) colors from color guides, monographs and other research material and most importantly to color chips of Federal Standard (FS) 595B or 595C as appropriate. For aircraft colors other than for the United States, we rely on color standards, FS equivalents, British Standards and other research material to obtain the most accurate match possible for the modeler.

Note that we have every color used for painting all aircraft used in the Viet Nam war (conflict if you are PC) including all camouflage colors for F-4's and B-52 bombers. We also have Titanium paint for the after burners on the F-4's and other jet aircraft!

All of the Tru-Color Paint colors manufactured in the above series are available in 1 oz. and 2 oz. size bottles from your favorite hobby shop, online store and from us directly. A complete listing plus an order form is part of this section for your use. If you have any questions regarding these products, or anything else about Tru-Color Paint, please do not hesitate to ask or consult the FAQ section on this website. As with all Tru-Color Paint products the entire military series is manufactured and stocked in Phoenix, AZ.

We look forward to serving the paint needs of the military modeler.
UNITED STATES – COMPLETE LIST OF IN STOCK AND ANNOUNCED COLORS


AIR FORCE
TCP-1200 FS-36320, Dark Compass Ghost Gray
TCP-1201 FS-17875, Insignia White
TCP-1202 FS-36375, Light Compass Ghost Gray
TCP-1203 FS-35237, Blue Gray
TCP-1204 FS-36440, Light Gull Gray
TCP-1205 F-35 Radar Dispersion Gray, #1
TCP-1206 FS-36231, Dark Gull Gray
TCP-1207 FS-36118, Medium Gunship Gray
TCP-1208 FS-36270, Medium Gray
TCP-1209 FS-34102, Light Green
TCP-1210 FS-12197, International Orange
TCP-1211 FS-36622, Gray
TCP-1212 FS-30219, Tan
TCP-1213 FS-34079, Forest Green
TCP-1214 F-22 Radar Dispersion Dark Compass Ghost Gray
TCP-1215 F-22 Radar Dispersion Light Compass Ghost Gray
TCP-1216 FS-16473, Aircraft Gray
TCP-1217 FS-34092, Gunship Green
TCP-1218 FS-30140, Brown
TCP-1219 FS-36170, Camouflage Gray
TCP-1220 F-35 Radar Dispersion Gray, #2
TCP-1221 FS-34259, Olive Green
TCP-1222 FS-30279, Sand
TCP-1223 FS-34201, Bomber Tan
TCP-1224 FS-34159, Bomber Green
TCP-1225 F-16- Have Glass Gray
TCP-1226 Titanium
TCP-1227 FS-36495, Light Gray
TCP-1228 FS-35109, Light Blue
TCP-1229 FS-35450, Air Superiority Blue
TCP-1230 FS-35164, Intermediate Blue
TCP-1270 FS-36628, Pinkish-White
TCP-1315 FS-34097, Field Green (May, 2021)
TCP-1316 FS-36251, Gray (Aggressor)
TCP-1317 FS-34086, Green (Aggressor)
TCP-1318 FS-36081, Gray (Aggressor)
TCP-1319 FS-36176, Dark Gray (June, 2020)
TCP-1320 FS-22190, Red (June, 2020)
TCP-1321 FS-30372, Sand (June, 2020)
TCP-1322 FS-30400, Yellow Sand (June, 2020)
TCP-1323 FS-35045, Dark Blue (July, 2020)
TCP-1324 FS-35414, Blue (July, 2020)
TCP-1325 FS-36152, Blue-Gray (July, 2020)
TCP-1326 FS-36307, Gray (July, 2020)
TCP-1327 FS-16081, Dark Gray (August, 2020)
TCP-1328 FS-25237, Dark Gray (August, 2020)
TCP-1329 FS-26492, Light Gray (August, 2020)
TCP-1330 FS-13538, Dark Yellow (August, 2020)
TCP-1339 FS-37925, White (April, 2021)
TCP-1340 FS-26132, Dark Gray (April, 2021)
TCP-1341 FS-26270, Medium Gray (April, 2021)
TCP-1342 FS-26373, Light Gray (May, 2021)
TCP-1343 FS-16440, Light Gull Gray (May, 2021)
TCP-1344 FS-36373, Light Gray (May, 2021)
ARMY & MARINE CORP HELICOPTERS
TCP-1331 FS-36099, Blue-Gray (September, 2020)
TCP-1332 FS-20400, Tan (September, 2020)
TCP-1333 FS-33303, Sand (September, 2020)
TCP-1334 FS-34031, U.S. Helo Drab (September, 2020)
TCP-1337 FS-34093, Medium Field Green (May, 2020)
TCP-1338 FS-33711, US Marine Corp Sand (May, 2020)
ARMY-NAVY AIR CORP
TCP-1231 ANA-623, Deep Blue-Black
TCP-1232 ANA-606, Semi-Matte Deep Blue-Black
TCP-1233 ANA-607, Matte Deep Blue-Black
TCP-1234 ANA-612, Medium Green- Navy Only, All Commands
TCP-1235 Aircraft Steel
TCP-1236 ANA-613, Olive Drab- Army Only
TCP-1237 ANA-616, Sand- North Africa, Army Only
TCP-1238 ANA-621, Dark Gull Gray- Navy, Atlantic Command
TCP-1239 ANA-603, Aircraft Gray
TCP-1240 ANA-608, Intermediate Blue
TCP-1241 Neutral Gray, #43
TCP-1242 Light Blue, #23
TCP-1243 Yellow, #4
TCP-1244 Orange-Yellow, #47
TCP-1245 Neutral Gray, #33
TCP-1246 ANA-610, Sky Green
TCP-1247 True Blue
TCP-1248 ANA-609, Azure Blue
TCP-1249 ANA-602, Light Gray
TCP-1250 ANA-611, Interior Green
TCP-1259 ANA-615, Middlestone (October, 2020)
TCP-1260 ANA-617, Dark Earth (October, 2020)
TCP-1261 Dark Olive Drab, #41 (October, 2020)
TCP-1262 Medium Green, #42 (October, 2020)
TCP-1263 Light Blue, #27 (November, 2020)
TCP-1264 Sea Green, #28 (November, 2020)
TCP-1265 Dark Blue, #29 (November, 2020)
TCP-1266 Dark Green, #30 (November, 2020)
TCP-1267 Willow Green
TCP-1268 Insignia Red
GREAT BRITAIN
BRITISH FLYING CORP- WWI BI-PLANES
TCP-1251 PC-10, Olive Drab, #1
TCP-1252 PC-10, Olive Drab, #2
TCP-1253 PC-12, Brown-Green
TCP-1254 BC-05, Yellow Doped Linen
ROYAL AIR FORCE- WWII

TCP-1281 Dark Green
TCP-1282 Dark Earth
TCP-1283 Medium Sea Grey
TCP-1284 Dark Sea Grey
TCP-1285 Light Aircraft Grey
TCP-1286 Azure Blue
TCP-1287 Ocean Grey
TCP-1288 Sky Type S
TCP-1289 Middle Stone
TCP-1290 Interior Grey-Green
TCP-1291 Extra Dark Sea Grey
TCP-1292 Dark Slate Grey
TCP-1293 P. R. U. Blue
TCP-1294 Light Earth (March, 2020)
TCP-1313 Light Green (March, 2020)
TCP-1314 Matte Yellow
FRENCH
WWI BI-PLANES
TCP-1255 FR-03, Light Yellow Doped Linen
TCP-1256 FR-04, Yellow Doped Linen
MODERN
TCP-1335 FS-37178, Aluminum- F1 Mirage (May, 2020)
TCP-1336 FS-37200, Gun Metal- F1 Mirage (May, 2020)
GERMAN
WWI BI-PLANES
TCP-1257 Red Baron Fokker Red
LUFTWAFFE- WWII AIR FORCE

TCP-1295 Hellblaŭ 65
TCP-1296 Schwarzgrün 70
TCP-1297 Dunkelgrün 71
TCP-1298 Graugrün #74
TCP-1299 Grauviolett 81
TCP-1300 Hellblaŭ 78
TCP-1301 Braunviolett 81
TCP-1302 Hellgrün 82
TCP-1303 Dunkelgrün 83 (February, 2020)
TCP-1304 Sandgelb 1 (February, 2020)
TCP-1305 Sandgelb 2 (February, 2020)
TCP-1306 Olivgrün 80 (February, 2020)
TCP-1307 Schwarzgraŭ 66 (February, 2020)
TCP-1308 Lichtblaŭ 76 (February, 2020)
TCP-1309 RLM Graŭ 02 (March, 2020)
TCP-1310 RLM Grün 72 (March, 2020)
TCP-1311 RLM Grün 73 (March, 2020)
TCP-1312 Gelb #04 (April, 2020)
TCP-1345 Rot #23 (April, 2020)
TCP-1346 Dunkelbraün #61 (December, 2020)
TCP-1347 Grün #62 (December, 2020)
TCP-1348 Hellgraŭ #63 (December, 2020)
TCP-1349 Dunkelblaŭ #24 (December, 2020)
ISRAEL
TCP-1271 FS-35622, Light Blue
TCP-1272 FS-33531, Middlestone (Tan)
TCP-1273 FS-34227, Medium Gray Green (Pale Green)
TCP-1274 FS-30219, Brown
TCP-1275 FS-34424, Sky Green
TCP-1276 FS-36320, Dark Compass Ghost Gray
TCP-1277 FS-36375, Light Compass Ghost Gray
TCP-1278 FS-36622, Gray
TCP-1279 FS-36231, Dark Gull Gray
JAPANESE
ARMY AIRFORCE ONLY
TCP-1350 Hairyokushoku (Gray Green) (June, 2021)
TCP-1351 Hairanshoku (Gray-Indigo) (June, 2021)
TCP-1352 Ohryuko Nana Go Shoku (Olive Brown) (June, 2021)
TCP-1353 Midori Iro (Green) (June, 2021)
TCP-1354 Noh Ryoku Shoku (Deep Green) (July, 2021)
TCP-1355 Ao Midori Iro (Blue-Green) (July, 2021)
TCP-1356 Ki Midori Iro (Yellow-Green) (July, 2021)
TCP-1357 Karekusa Iro (Dry Grass) (July, 2021)
TCP-1358 Cha Kasshoku (Tea Color) (August, 2021)
TCP-1359 An Kasshoku (Dark Brown) (August, 2021)
TCP-1360 Tsuchi Iro (Earth Color) (August, 2021)
TCP-1361 Trainer Yellow, 14 (August, 2021)
NAVY AIRFORCE ONLY
TCP-1362 Hai-iro J3 (Gray) (September, 2021)
TCP-1363 Ameiro (Amber-Gray) (September, 2021)
TCP-1364 Deep Green Black, D1 (September, 2021)
TCP-1365 Green Black, D2 (September, 2021)
TCP-1366 Trainer Yellow, C1 (October, 2021)
TCP-1367 Blue-Black, Q1 (October, 2021)
TCP-1368 Gray-Green, M1 (October, 2021)
TCP-1369 Brown, H2 (October, 2021)
TCP-1370 Red-Brown, A3 (November, 2021)
JAPANESE ARMY-NAVY COLORS: IN COMMON
TCP-1371 Aotake (Metallic Blue-Green) (November, 2021)
TCP-1372 Sumitomo, 37/N0 (Dark Brown) (November, 2021)
TCP-1373 Hinomaru, 10/B3 (Red) (November, 2021)
---